Your hosts Rob and Gordon discuss all – The Rebel Chef shares Sticky Toffee Pudding – show date 18 October 2019 
Sticky Toffee Pudding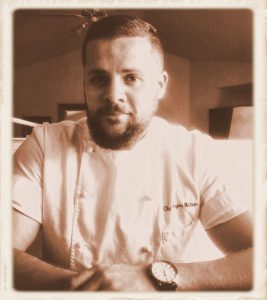 225 grams / 8 ounces/ 1 cup
cooking dates (stoned and chopped small)
175 Milliliters / 6 fluid ounces / 3/4 cup boiling water
1 teaspoon vanilla extract
175 grams 6 oz 3/4 cup self-raising flour
1 teaspoon bicarbonate of soda (baking soda)
2 large fresh eggs (lightly beaten)
85 grams / 3 oz butter (softened, plus extra for greasing)
140 grams / 5 oz demerara sugar (brown sugar)
2 Tbsp black treacle (molasses)
100 milliliters / 3 1/2 fluid oz milk
For the Butterscotch Sauce:
175 grams / 6 oz light muscovado sugar (brown sugar)
55 grams / 2 oz butter (cut into pieces)
225 milliliters / 8 oz heavy (double) cream
1 Tbsp black treacle (molasses)
Methods to Follow
Preheat the oven to 325 F/ Gas 3
Grease with butter an 8-by-8 by 2 1/2 square baking dish and dust lightly
with flour
Put the chopped dates into a large glass bowl, over with boiling water,
leave for 20 minutes to swell and soften.  Once soft, add the vanilla
extract.
Sieve the flour and bicarbonate of soda into a large baking bowl.
In another baking bowl, cream the butter and sugar together until light and
creamy, don't worry about grains of sugar, they will melt during cooking.
Little by little, add the beaten eggs, mixing really well between
additions.  Add the treacle and beat well.
Using a large metal spoon carefully fold in one-third of the flour, then
carefully stir in one-third of the milk.  Repeat until all the flour and
milk is used up.
And the chopped dates (including any liquid in the bowl) and stir gently.
The pudding mixture will resemble a thick batter.
Divide the mixture between the six pudding tins and place on a baking
sheet.
Bake in the preheated oven for 20-25 minutes for individual puddings or 40
to 50 minutes for the large square.  The cake should be raised and firm to
the touch.  If not, cook a little longer, but take care not to burn. Once
ready, remove from the oven and leave to cool in the tins for 10 minutes
before turning out.
Make the Sauce
Over medium heat, melt the butter, sugar and half the cream in a saucepan.
Raise the heat slightly and bring to the boil stirring constantly until all
the sugar has dissolved.
Add the treacle and allow the sauce to bubble for 2 minutes.  Remove from
the heat and leave to cool for 1 minute then stir in the remaining cream.
Place a portion of the cake onto warm individual serving dishes, and
drizzle generous amount of sauce over.
Serve with vanilla ice cream.
Podcast: Play in new window